BSU Students Win 3rd Place in Microsoft Bot-a-Thon Challenge
Business Information Systems Students Create Chatbot for Academic Advising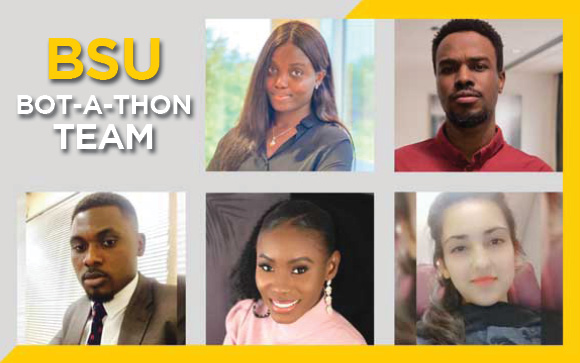 MEDIA CONTACT: Cassandra Robinson, crobinson@bowiestate.edu, 301-860-4336
(BOWIE, Md.) – The theme was the Future of Work at the 2021 HP HBCU Technology Conference and Bowie State students attending for the first time went to work and brought home a win, placing third in the Microsoft Bot-a-Thon Challenge for their design of an academic advising chatbot.
While participating in the Bot-a-Thon session at the conference, out of curiosity, the students decided to take on the challenge. They formed a development team consisting of MIS graduate students Whenume Hundeyin (lead product manager), Ololade Opaola (UI designer), Abiola Olanrewaju (developer), Abisola Olanipekun (business analyst), and computer science senior Samra Ejaz (researcher). Their roles were based on their strengths and comfort level and they all played an integral part in designing the chatbot prototype— a computer program designed to simulate conversation with humans using artificial intelligence and machine learning.
Developed over the course of five weeks, beginning in October, the chatbot was intended to provide academic advising for students in the College of Business. They acquired data on advising sequence issues and interviewed students to determine the most frequently questions asked of advisors. The team was trained during the conference to use the cutting-edge software Microsoft Power Platform to build the bot. Their prototype was presented before a panel of judges where they first placed among the top 10 finalists out of 30 teams, followed by the top three and subsequently won 3rd place.
The team was guided by Dr. Lawrence McNeil, dean, School of Business, Dr. Azene Zenebe, chair, MIS Department, Professor Andrea Calloway, lecturer, BUIS Undergraduate Program Coordinator, and Maurice Tyler, vice president for Information Technology who met with them throughout the process and provided information, documentation, guidance and support. The team was also supported by a systems engineer from Microsoft and an HP engineer located in India who both served as mentors.
Despite the many challenges along the way such as balancing daily academic course workload, acquiring a new software skill and the time zone difference of the mentors, the students benefitted from the experience.
"Using Microsoft Power Automate is another skill that I have now acquired, and it's actually helping me," said MIS graduate student Whenume Hundeyin. "I'm graduating this semester, and I'm applying for jobs. Anytime I talk about it during my interviews, employers like the idea because it's something they're looking for."
Chief information officer Maurice Tyler served as project sponsor and provided the automation use case for the Bot-a-Thon that would provide a solution to a real-life problem the university was facing.
"The students acquired real world experience that they can put on their resume, which is very important," said Tyler. The students weren't working on something that does not have an active use or role at the university. When they're finish, this bot will absolutely be used. The students will graduate from the university and leave behind something that's going to live on."
In the long term, the goal is to continue to support the students' efforts and incorporate their advising chatbot as a working prototype to be paired with existing bots and used campus-wide. There are also plans to publish the bot and bring it to market.
###
About Bowie State University
Bowie State University (BSU) is an important higher education access portal for qualified persons from diverse academic and socioeconomic backgrounds, seeking a high-quality and affordable public comprehensive university. The university places special emphasis on the science, technology, cybersecurity, teacher education, business, and nursing disciplines within the context of a liberal arts education. For more information about BSU, visit bowiestate.edu.