VOTE HBCU "Say it Louder" Tour Registers Students to Vote
Bowie State University Students Show Commitment to Civic Engagement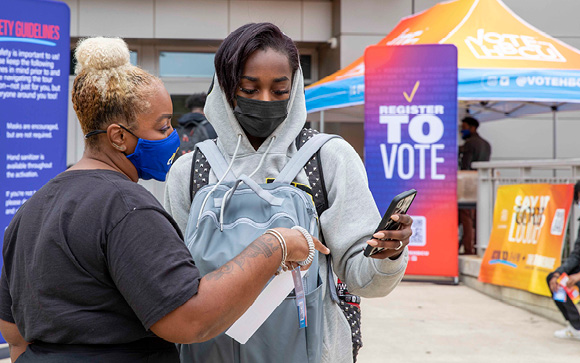 MEDIA CONTACT: Cassandra Robinson, crobinson@bowiestate.edu, 301-860-4336
(BOWIE, Md.) – More than 300 Bowie State University (BSU) students participated in Vote HBCU's inaugural 'Say It Louder' Campus Tour today by registering to vote and expressing the issues that concern them most as they connected with fellow students and alumni of other HBCUs during interactive activities with a distinctive HBCU flair.
Vote HBCU is a new national, nonpartisan civic engagement program with a mission to educate, mobilize and activate students at Historically Black Colleges and Universities (HBCU) to ignite social change on campus and in their communities. The 'Say It Louder' Tour aims to amplify the collective power of HBCU organizing by reintroducing the idea of civic engagement to students in a way where culture and civics intersect.
"We brought this activation to BSU to jumpstart awareness of our freshman to the importance of registering to vote now, in advance of the 2022 elections," said Dr. Keadrick Peters, coordinator of Multicultural Programs. "We will have ongoing programs to involve them in other civic and social justice activities including becoming certified to register others to vote in their home communities. Our goal is to empower students to use their voices to make a difference."
Through the program's partnership with When We All Vote, students, faculty, and staff were able check their registration status and register to vote through an online voter registration tool powered by Rock the Vote. The BSU community learned new ways to use their voices to advocate on issues that impact them on the local, state, and national levels during the activation. The program was founded in 2020 in collaboration with HBCU leadership organization Xceleader and The Collective Education Fund.
"Black colleges and universities are at the forefront of making political change in this country with the role of many of their alumni advocating for voting rights and leading during the civil rights movement," said Xceleader Co-Founder Aarian Forman. "It is imperative that HBCU students are exposed to the voting process when they first arrive on campus."
Before arriving at BSU, the "Say it Louder" tour's first stop was at to North Carolina A&T State University. The program plans to add additional HBCUs to the tour ahead of the 2022 midterm election cycle.
###
About Bowie State University
Bowie State University (BSU) is an important higher education access portal for qualified persons from diverse academic and socioeconomic backgrounds, seeking a high-quality and affordable public comprehensive university. The university places special emphasis on the science, technology, cybersecurity, teacher education, business, and nursing disciplines within the context of a liberal arts education. For more information about BSU, visit bowiestate.edu.
About Xceleader
Xceleader is a non-profit organization focused on cultivating the next generation of leaders at historically black colleges and universities (HBCUs). Through its four impactful programs, Xceleader connects the talented student leaders and graduates of HBCUs to ladders of power by providing leadership training, mentorship, and a network of graduates. The Xceleader Executive Fellowship, XceleadHer, and Vote HBCU programs are all designed to train and mentor Black student leaders for success. These programs instill impeccable leadership skills, create connections among emerging leaders, empower women, and drive change through political activism.
About The Collective Education Fund
The Collective Education Fund, via their Vote To Live program, is taking a two-pronged approach to engaging Black voters on the importance of civic engagement: first through innovative and distributed voter registration initiatives and through an extensive voter education effort. By coupling voter registration and voter education activities, The Collective Education Fund aims to inform the Black community of the importance of their vote, how to protect and cast their ballot under changing legal landscapes, and how voting fits into a broader political and civic engagement strategy to build power for our communities.