Penn National Gaming Dedicates over $4 Million to STEM Scholarship Program with Historically Black Colleges and Universities
Bowie State University among First to Receive Scholarships and Internships for Students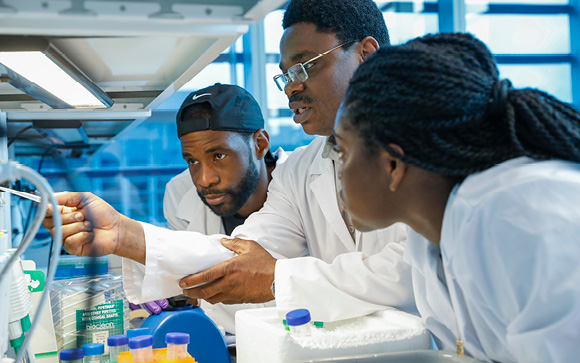 MEDIA CONTACT: Cassandra Robinson, crobinson@bowiestate.edu, 301-860-4336
(BOWIE, Md.) – Bowie State University is one of three Historically Black Colleges and Universities selected as initial participants in Penn National Gaming, Inc.'s new Science, Technology, Engineering and Mathematics ("STEM") Scholarship Program. The program will dedicate more than $4 million over five years to HBCUs in states where Penn National operates to fund STEM scholarships and internship opportunities with the company.
In addition to Bowie State, the initial participating HBCUs include Norfolk State University in Norfolk, Virginia, and Wilberforce University in Wilberforce, Ohio.
In the official announcement, Penn National President and CEO Jay Snowden noted," Increasing access to STEM opportunities for HBCU students is another important step to promote social and economic equity, as well as diversity, inclusion and belonging. Penn National is well positioned to be North America's leading digital, entertainment, sports content, gaming, and technology company, and we look forward to supplementing these scholarships with real-life technical skills development for the STEM internship recipients."
Bowie State University, the oldest HBCU in Maryland, is a leading producer of African American graduates in computer science/technology and information sciences.
"The scholarships and internships made possible by this new partnership with Penn National Gaming add to our strategic commitment at Bowie State to prepare students for the evolving workplace," said President Aminta H. Breaux. "Supporting the development of our students will pay dividends for the future economic viability of our state and nation."
Penn National's commitment to fund STEM scholarships and internship opportunities is an extension of the Company's established partnerships with 33 HBCUs across the country. The ongoing collaboration with HBCUs facilitates career opportunities at Penn National's properties and increases participation in its Leadership Excellence at Penn National Gaming ("LEAP") Program, which provides hands-on training, mentoring, and real world experience to new or recent college graduates who are interested in building a long term career in the gaming industry.
###
About Bowie State University
Bowie State University (BSU) is an important higher education access portal for qualified persons from diverse academic and socioeconomic backgrounds, seeking a high-quality and affordable public comprehensive university. The university places special emphasis on the science, technology, cybersecurity, teacher education, business, and nursing disciplines within the context of a liberal arts education. For more information about BSU, visit bowiestate.edu.