New Business Course at Bowie State Empowers Tech Savvy Entrepreneurs
Partnership with South African University to Support Community Impact Ventures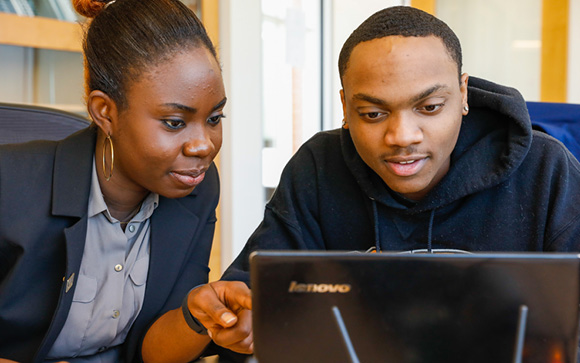 MEDIA CONTACT: Cassandra Robinson, crobinson@bowiestate.edu, 301-860-4336
(BOWIE, Md.) – Business students from Bowie State University and Rhodes University in South Africa will team up to use diverse financial and business technology skills learned in a new cross-cultural course to support economic growth of cooperatives and other emerging businesses.
Bowie State University's College of Business and Rhodes University School of Business in South Africa are developing a new course module to equip business students of both universities with a global entrepreneurial perspectives and technology skills to guide the development and growth of small business ventures. The Entrepreneurial and Technological Empowerment Program (ETEP) will introduce students to digital and financial technologies, project management, and business development skills and empower them to assist rural and emerging businesses and cooperatives in marginalized communities.
"The beauty of the program is that it pairs teams of BSU and Rhodes students to provide technology-based solutions to business and socio-economic issues facing rural cooperatives in the Makhanda region of South Africa," said Professor Kavita Kapur, assistant professor of marketing, management and public administration and a lead organizer of the initiative at BSU. "Student will not only gain knowledge of emerging technologies but also understanding of the connections of applying them to help businesses grow to have greater impact in their communities."
The curriculum, jointly developed by faculty from BSU and Rhodes, will focus on technology and global competencies that can be directly applied to real life business situations to improve business performance, access to markets and economic growth. Students will gain knowledge in a variety of blockchain technologies including cross-border payments and programmable digital currency. Agile project management and software development as well as lean startup business practices will be taught.
Bowie State's expanding expertise in entrepreneurship education and digital business technologies together with Rhodes expertise in sustainable business development combine to create a holistic experiential opportunity for students to gain insights into delivery of business development services in an intercultural environment. The program is supported by the U.S. Department of State in South Africa.
"In addition to learning new technological skills for success in the evolving business world, Bowie State students will also gain understanding of developing nations," said Kapur. "The knowledge they will gain working with the cooperatives can also be applied to supporting small, family-owned businesses in the U.S."
The ETEP course module will be incorporated into the senior level e-commerce course in business information systems at Bowie State and into the Postgraduate Diploma in Enterprise Management at Rhodes. BSU will offer a 16-week course in the spring semester of 2022 with the last eight weeks devoted to the collaborative ETEP module with Rhodes. Students will be joined in a virtual classroom and work in teams to support an assigned cooperative business in South Africa. The program includes a two-week exchange visit to the U.S. for selected Rhodes students in 2022. Selected Bowie State students will travel to South Africa in 2023.
###
About Bowie State University
Bowie State University (BSU) is an important higher education access portal for qualified persons from diverse academic and socioeconomic backgrounds, seeking a high-quality and affordable public comprehensive university. The university places special emphasis on the science, technology, cybersecurity, teacher education, business, and nursing disciplines within the context of a liberal arts education. For more information about BSU, visit bowiestate.edu.