Voting Rights Champion Stacey Abrams to Address BSU Commencement
About 700 BSU Graduates to Receive Their Degrees in a Hybrid Ceremony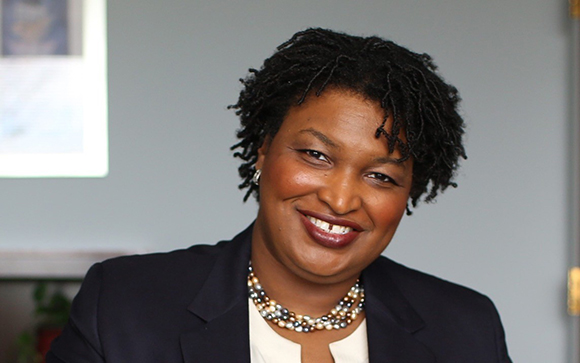 MEDIA CONTACT: Damita Chambers, dchambers@bowiestate.edu, 301-832-2628 mobile
(BOWIE, Md.) – Voting rights champion, political leader and bestselling author Stacey Abrams will address about 700 Bowie State University graduates and their families at a hybrid spring 2021 commencement on Friday, May 21 at 10 a.m. The hybrid ceremony will be an in-person experience for graduates at Bulldog Stadium and a live, online viewing for everyone else at bowiestate.edu/commencement.

Major Riddick Jr., a distinguished public servant who became the first African-American to serve as the Maryland governor's chief of staff, will receive the Presidential Medal of Excellence. Riddick helped to establish an economic development partnership between Bowie State University and Prince George's County, while serving as the county's chief administrative officer.

Abrams is an outspoken advocate in the fight to expand voting access and is the New York Times-bestselling author of "Our Time Is Now" and "Lead from the Outside." She is widely credited with increasing voter turnout in Georgia in the 2020 presidential election, as well as in the state's 2020–21 U.S. Senate election and special election. She was nominated for a 2021 Nobel Peace Prize for her efforts. She made history in 2019 as the first African-American woman to deliver a response to the State of the Union address.

She was the nation's first African-American female major-party gubernatorial nominee when she ran as the Democratic candidate in the 2018 Georgia governor's race, winning more votes, at the time, than any Democrat in state history. Before her gubernatorial run, she served as Democratic Leader of the Georgia House of Representatives for seven years.

Abrams has launched several organizations to address inequities in government. She started Fair Fight Action to ensure every American has a voice in our election system, Fair Count to ensure accuracy in the 2020 Census and the Southern Economic Advancement Project, a public policy initiative to broaden economic power and build equity in the South.

Abrams holds a Juris Doctor degree from Yale Law School, a Master of Public Affairs degree from University of Texas at Austin and a bachelor's degree from Spelman College.
###
About Bowie State University
Bowie State University (BSU) is an important higher education access portal for qualified persons from diverse academic and socioeconomic backgrounds, seeking a high-quality and affordable public comprehensive university. The university places special emphasis on the science, technology, cybersecurity, teacher education, business, and nursing disciplines within the context of a liberal arts education. For more information about BSU, visit bowiestate.edu.