New BSU Grad Lands Exciting Opportunity at LAIKA Studios
Fine Arts Grad Vinceaun Minto Explains New Role in Animation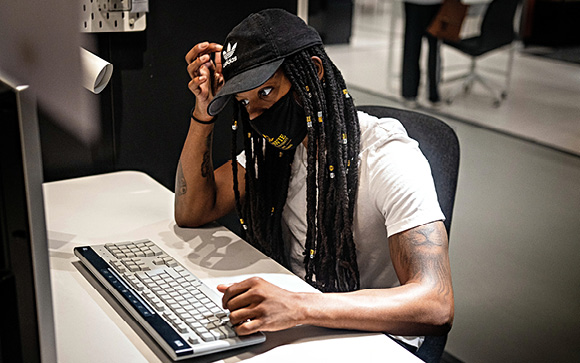 MEDIA CONTACT: Cassandra Robinson, crobinson@bowiestate.edu, 301-860-4336
(BOWIE, Md.) – Bowie State University graduate Vinceaun Minto ('21) couldn't believe it when he received a call from LAIKA, LLC, the award-winning stop-motion animation studio, inviting him for an interview. After all, this was one of the leading animation studios in the nation. Today, the Portland, Ore. studio is where he spends most of his time in a full-time positon as assistant camera trainee.
Minto, who majored in fine arts with a concentration in studio art at BSU, had submitted his photography portfolio to the studio at the request of his professors. The executives were so impressed that they called him immediately and subsequently offered him an internship the same week of his graduation.
Within two weeks, Minto made the transition from Landover, Md. to Portland, Ore. to start the internship as a camera intern on his birthday. Just a few weeks before the end of the three-month internship, LAIKA made Minto yet another offer as a full-time assistant camera trainee, which he began in September.
LAIKA specializes in feature films, commercial content for all media, music videos, and short films. The studio is best known for stop-motion feature films like Coraline, ParaNorman, and The Boxtrolls.
"Landing this opportunity was an amazing feeling, because I had worked very hard for it," Minto said. "We're currently working on a new production, so it's a very intense job but the outcome, the movies themselves are great. I feel like this is a once in a lifetime opportunity."
Minto spends a lot of time in the studio shadowing his mentors and studying his craft, and is proud of the responsibility that he's been given. He's in charge of setting up the camera equipment for the scenes that are being shot in each frame of a movie. He also programs some of the robotic systems, helps animators publish their work, and photographs the characters for the movie scenes. As a camera technician, he has to find solutions to problems that occur on stage and behind the scenes.
In 2020, LAIKA teamed up with Bowie State to build the nation's first stop-motion animation studio at an HBCU. The partnership was developed to enhance BSU's animation curriculum, with the goal of providing a career pathway for BSU students into the animation industry.
Minto is the first student to follow the pathway. "It's very different from my background in computer graphics, but I enjoy it nonetheless," he said. "I enjoy that I am challenged every day. I am forced to problem solve and create solutions to different problems that happen on stage. There's a new problem that you face every single day no matter how long you've been in the industry."
###
About Bowie State University
Bowie State University (BSU) is an important higher education access portal for qualified persons from diverse academic and socioeconomic backgrounds, seeking a high-quality and affordable public comprehensive university. The university places special emphasis on the science, technology, cybersecurity, teacher education, business, and nursing disciplines within the context of a liberal arts education. For more information about BSU, visit bowiestate.edu.